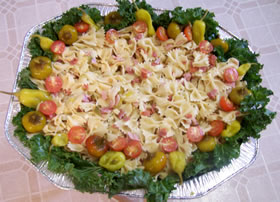 Italian Sub Pasta Salad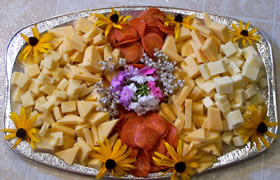 Cheese Platter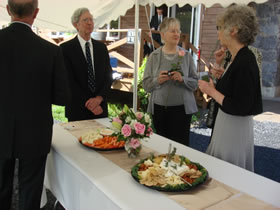 Appetizers! Great for mingling before the main event!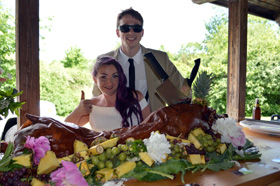 Thumbs up for pig!
Appetizers and Side Dishes
aVermonter can provide a wide variety of appetizers, sides, and even desserts to compliment your pig roast or barbeque. From traditional sides like baked beans and potato salad, to brie encrusted pie or squash with real Vermont Maple Syrup!
A sampling...
Appetizers
Vegetable Platters
Cheese Platters
aVermonter Special Sausage
Fruit Platters
Stuffed Mushroom
Shrimp Scampi
Shrimp Cocktail
Chocolate Covered Strawberries
and more!
Side Dishes
Potato Salads
Pasta Salads
Artichoke and Mushroom Salad
Cole Slaw
Squash with Vermont Maple Syrup
Spinach Salad with craisins, pistachios, red onion and blue cheese crumbles
Grilled peppers, onion and zucchini
Plaid Potatoes (halved potato brushed with olive oil and dusted with rosemary, salt and pepper)
Special Baked Beans
Eggplant Parmesan
Baked Macaroni and Cheese
and more!
This is only a SMALL sampling. We can also do desserts! Contact us via email, through Facebook, or call us at 802-345-7828 to ask if a particular item you would like is available.
In addition to appetizers and side dishes produced by aVermonter, we proudly work with other caterers to provide appetizers, sides and even desserts. Because of this, we can offer a wide variety of options for your event.

Home | About aVermonter
Pig Roasts | BBQ | Apps & Sides
Contact
aVermonter enterprises
39 Simpson Lane
Pittsford VT 05735
802-345-7828
All content ©2016, aVermonter Enterprises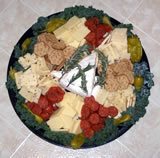 "It's not often that you can contact a caterer 6 months ahead of an event, then follow up with one email 2 weeks before the event, and have everything workout perfectly. Your staff was kind and the food was excellent. We wouldn't change a thing."

Gene
Mt. Philo State Park,
Charlotte, Vermont
September 21, 2013