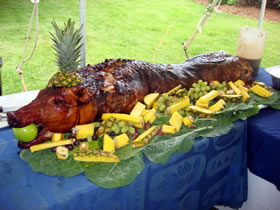 Perfectly cooked and fully dressed!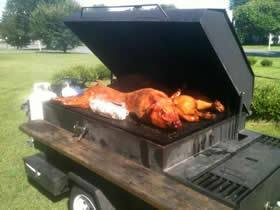 Two pigs! YUM!!!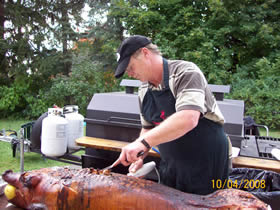 Terry begins carving the pig.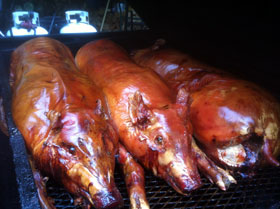 Three pigs! When your party gets up to around 220 guests, it's time to add a third pig!
Three guests!
Pig roasts make great memories!
Pig Roasts
aVermonter can roast not just one, but two or even THREE pigs at once! Slow cooked and succulent, a pig roast makes your event more than just food, it's an experience. Guests are always commenting on arrival about the wonderful smells emanating from the grill, and when Terry opens it to show them what's inside, out come the ooh's, ahh's and cameras!
Once off the grill, the pig is fully dressed and displayed while sitting before carving - more ooh's, ahh's and cameras.
When guests get their food and it might get just a little silent for awhile while guests savor the experience!
Pricing
We request and require a 50% deposit to secure all pig roast bookings. This is non refundable in the event of a cancellation. We have our pig roasts rain, shine or snow. The balance is payable 15 days before the event. Payment may be made on line using "PayPal" or by checks made payable to "aVermonter Enterprises".
There are no hidden costs associated with our service.
We can quote for further catering options such as smoked, grilled or rotisserie items.
Cost: $475 plus 50 cents per mile and cost of pig if applicable (you may choose to deliver your pig to us). This includes carving, and fresh fruits for display to dress up your pig.
Pigs purchased through aVermonter Enterprises are $4.00 a pound if the pig is less then 125 pounds, and $3.50 per pound if the pig is over 125 pounds.
We use only the finest Vermont ingredients, Vermont pigs, and pure Vermont Maple Syrup for your pig roast.
Contact us via email, through Facebook, or call us at 802-345-7828.
Taking bookings now for the upcoming season! *Reference below from Kevin Gecha Wedding: done in August 2014 for 150 plus guests, Wallingford Lodge.
"My wife and I would like to thank you for the wonderful meal you provided for us and our guests at our wedding. Its obvious you take great pride in your cooking and we are so glad that you do. You cooked the best pig we have ever had (and I have been to a lot of pig roasts). Whenever we talk about the wedding someone always brings up how good the pig tasted. However, I have tasted something slightly better than your roasted pig....its your award winning sausage!!! "

"To be honest, my wife was a little concerned about having a pig roast at our semi formal reception, and she was pleasantly surprised. You brought everything in and set yourself up without an issue and kept everything very clean during the wedding. You made the whole process easy, from creating a menu to serving the pig, you did a wonderful job! I hope your staying busy doing what you love. One thing is for sure, if we ever have another big party, you sir, will be getting a phone call."
See more references here.
Home | About aVermonter
Pig Roasts | BBQ | Apps & Sides
Contact
aVermonter Enterprises
39 Simpson Lane
Pittsford VT 05735
802-345-7828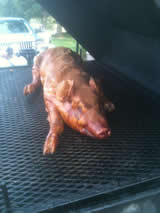 "Thank you so much for your excellent service – the pig roast was a huge success. We received lots of compliments on all the dishes you provided. I also appreciate you taking such good care of us. You made sure to seek out my husband and I so we could sample the food prior to it being served. You really made me feel special. I would absolutely use you again and/or recommend you to others. Thank you again for everything you did and for making such excellent food."

Mrs. Dommke
Henry House
North Bennington, Vermont
July 27, 2013